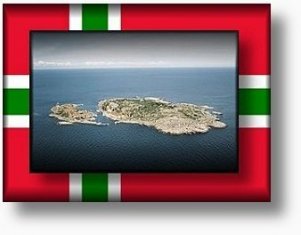 Welcome to the information page of 47DX/BO002/F.



This page is mainly made to offer log-search, and
general information.


David and Soren plan to activate three islands on the weekend of 2nd to the 4th of May.

Frederiksoe island (the smaller island in pic to right) along with Christiansoe are two of the three main islands which make up the Ertholmene archipelago, amongst these are also numerous small rocks/islets. This small group of islands are approximately 18 km northeast of Bornholm island in the Baltic Sea.


Only Christiansoe and Frederiksoe are inhabited, while Gręsholm is a bird reserve. The sound between Christiansoe and Fredeiksoe, a well-sheltered natural harbour, is crossed by a pedestrian bridge that is pulled aside to accommodate larger vessels.


Activity callsign 47DX/BO002/F: All islands in the Ertholmene archipelago are referenced by the Danish Island Award Programme with BO-002, to distinguish between the two islands which are planned to be active DXRC have issued letter suffixes after the local reference number = 47DX/BO002/F for Frederiksoe island.



Find Frederiksoe Island on Islands Base Online.




Team


21DX102 Mr. David
47DX002 Mr. Soren


QSL-Manager


DXRC Bureau

E-mail to manager: Click .





Activity schedule:


03/05/2014: Frederiksoe island. (new one) IOTA: EU-030




Equipment used:


- antenna: Bamby
- radio: Yaesu FT-857D
- microphone: original
- power: 100 Watt
- logsystem: "Readability and Signal report exchange"




Activity Contract:


See here a copy of an agreement the activity team leader has made with DXRC HQ.




Log:


Click here to make logsearch.




Activity Status: APPROVED (score 87)


Click here to read more about validations.




Pictures (also proof):


Click here to see pics from the activity.

Please notice that access was via Bornholm island - this island was also activated so more proofs is found here.
Also please notice that this activation took place just for a few hours - base was at Christiansoe island.




QSL design:


Click here to See the 47DX/BO002/F QSL design.




Story:


Click here to read all about the activity.




Audio recordings:


Click here to hear 47DX/BO002/F audio. TNX John 47DX101 (Notice: mp3 format).



Back.