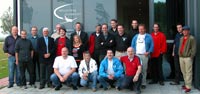 2006 LELYSTAD DXRC MEETING
(Official story by 14DX461 Ludo)
2 Years after the last meeting taken place in Tarragona (Spain), DXRC (Delta-Xray Radio Club) has organized the 2006 meeting in Lelystad (Netherland) from June 2nd to 4th 2006, following the story of that meeting.
Friday:
The first meeting attendants started to arrive in the afternoon, after 2 years, a nice pre-meeting is already pending in the hall of the hotel. The small chat begin between friends, hours after hours, people will join us untill the dinner time, a chinese buffet. Soren 47DX002 and Christian 30DX401 take the leads to thanks everyone for joining the meeting.
As most of us were quite tired after the day trip, some preferred to go to bed while stayed chatting and had a beer in the Hall, talking of course of the radio world.
Saturday:
Attendants got up slowly but steady for the breakfast, meeting was scheduled to begin officialy at 10.00 AM. Most of the people at this time were from DXRC with some guests like 30AT870 and 21AT116, that was present since Friday. After a short welcome, Christian 30DX401 introduced the meeting schedule/agenda for the weekend . Everyone single person present was introduced by Christian ,just to make sure that we all knew who was with us.
In the meantime some other guests joined us, most of them came from 19 division , and they're were all equally welcome at the meeting.
At around 11.30 AM we had a very nice presentation made by Ron Eberson from ZX yagi antenna (19ZX001). A nice time for us to return to the school and to learn more about antennas technique, and some good explanations for some other antennas. Lots of questions were asked to Ron and it was nicefor all of us to learn more about antennas theory and "real life". We are happy to thank Ron for joining us at the meeting. We hope to see you again at another meeting for next class.
After lunch, as each time we met again in the hall of the hotel for chat and a drink, more people joined us for a visit, always nice to met and get to know some other operators. Chit-chat did continue until the DXRC Internal Meeting began at 3.00 pm.
The main idea of the DXRC Internal Meeting is open dialogue for ALL members, to ask the members "where to go" for the future and other important questions for the club. Also all members are free to ask whatever they like about the club, also problems that he have in some points.... More of this it really most important to listen for the members than to have only one way discussion.
After two hours of debate we finally closed the Internal Meeting, just in time to do a short drink - then Christian 30DX401 made a presentation of his 2004 Pacific Tour . During more than one hour Christian made us dream with about some hundreds of pictures from 98, 43, 41, 99, 96, 276, 275, 70 divisions, well congratulations once again Christian, you made us dreaming a lot, your presentation was so impressive, with really nice photos.
As we had a little time before the Dinner, it was necesserary to ask to our friend 21AT116 Chris to remind us some great times from 213 division, the reminder contained the 3 last activations from the Market Reef. The last one with the challenge between 213AT/DX and 213DX/1 , once again a really great time with a Superb Speaker - thanks Chris we really enjoyed this time as usual.
After Chris' presentation, it was time for the dinner: Dinner was a buffet, we could eat whatever we wanted, a good time also to talk with each other of course. After dinner some decided to go out for the city, while others stayed at the Hotel lobby chatting and having a beer. We won't give the callsign of those night qrm'ers but the party did proceed under the 120 Db level noise in a pub-disco from Almere 20 km away from Lelystad . Congrats for the new members in the podium dance, they were highly skilled ;), some other did not bring the danceshoes and had to stay away from the dancefloor - once again no call no call !! This team returned in Lelystad around very late - or should we say early?
Sunday:
After the breakfast, some had to leave the meeting so it was time to say bye to some new good friends, but it was also time to Chris 21AT116 to show us the 52AT/EU018 presentation, activation held on end of 2005 with 21DX139 Patrik. Once again a great presentation with many nice pictures and statistics - just as we saw from the Pacific Tour yesterday.
Before the lunch we had a short visit to Lelystad Aviodrome a nice exposition of old planes not far away from the hotel. After almost 1 hour of visit we returned to the Hotel for the final lunch. Everyone felt that it was nearly time to say goodbye untill the next one.At around 3.30 PM the last cars left the parking of the hotel, saying goodbye to Lelystad.
This DXRC meeting as usual has been different than the other meetings, more than friendship, we found brotherhood like our familly, so until the next meeting thanks to everyone for coming to see us, and of course a special THANK YOU to 19DX121 Mike for the hard work arranging this fabulous meeting. You - and your family - has worked hard to make us such an unforgettable weekend.
Thanks a lot to everyone, see you in ???? for the DXRC meeting 2007.





Click here to go back to 2006 Lelystad DXRC Meeting mainpage.