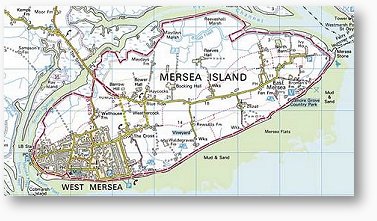 Story from 26DX/ES003 activity.


Mersea island activity was a short notice afair, it was Thursday the 20/11/2014, while typing to Bill 26DX059 on the PC I mentioned that I fancied activating an Island, within 10 seconds Bill was on telephone mentioning he would be interesting in joining me, this was handy seen as Bill is a dab hand with antenna's and mashes a tasty brew. Couple of hours later I'd got authorization for 26DX/ES003 Mersea island and decided we would do this on the coming Sunday.

I notified Bill it was all on for Sunday, luckily he hadn't got anything else more important to do, so all was made public on DXRC Website, announcements were sent on Facebook and mails to a couple of Yahoo Group mailing lists. The following day (Friday) I noticed weather forecasts were very bad for the Sunday, low temps and heavy rain, I mentioned this to Bill, Bill's reply was "shurup we're going".

I wanted to send a few postcards direct from the Island, I phoned Mersea Island Post Office and asked if they would send me 5 postcards but I needed to pay over the phone and they needed to send them 1ST Class so I received them Saturday morning, they wouldn't accept payment over the phone, so no good. I searched around and found via google the "Island Supermarket", after a short chat the Asian gentleman he confirmed they sold **POST**cards", he mentioned they open 07:00z on Sundays, cool.

Postcards, why send postcards ?, postcards don't prove much, they certainly don't prove someone tx'd from a specific location, they can show you were in a certain location, especially with purchase receipt they show date, time etc, but for me I like to show friendship and appreciation occasionally to some 11m operators by the way of a simple postcard, over the years I've received many postcards from friends all over the world, do these postcard 100% prove my friend tx'd from a certain location? no they don't, what they do prove is the sender thought "I'll send a few postcards, hm I'll send one to Darran", I like to do the same on the rare occasions I do an activity, I do this not soley for proof purposes, more friendship. Anyway I'd hope to send 5 or 6 postcards from Mersea island, this turned out not to be straight forward as I had planned.

Bill was eager to get down South of England, "I'll be at yours for 05:30z", another phone call later it was "I'll be at yours for 05:00z", then it was 04:45z, very early Sunday morning I receive a message from Bill "ON WAY TO YOURS", Bill arrives at 03:30!!, within 10mins Bill's stuff is packed in my car and we're off for a day out playing radio, journey started at 03:43z: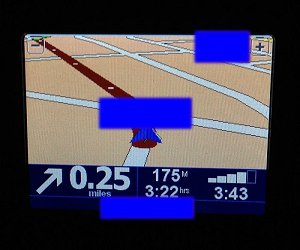 Weather forecasts were unfortunately spot on, car wiper blades were on full speed for most of the 3hr plus journey, approaching Colchester TOMTOM decided to send us the scenic route, for around 20 minutes we navigated water logged tracks, over tiny marked "weak bridge"s and very narrow misty lanes, alittle eery, anyway after about 20 minutes we arrived at the "Strood", this is the causeway which joins Mersea island with the mainland, I'd checked before-hand, low tide was at 06:35, we drove over the causeway at 06:58 with video camera running filming nothing much except darkness, I intended to show the sign "Mersea Island" but nothing much can be seen on the video footage, it was still dark:



We must have been on the Island less than one minute when I received a whatsapp message from my good friend Jesper 47DX109 wishing us good look (good timing Jesper! :-), I pulled over at side of the road and we exchanged a few messages, I sent my exact location via "ham Locator", cell phone coverage was not good, so the map pic didn't go to full focus, but after a while images were sent.

***Please note the time on the video above and the time on the pics below***: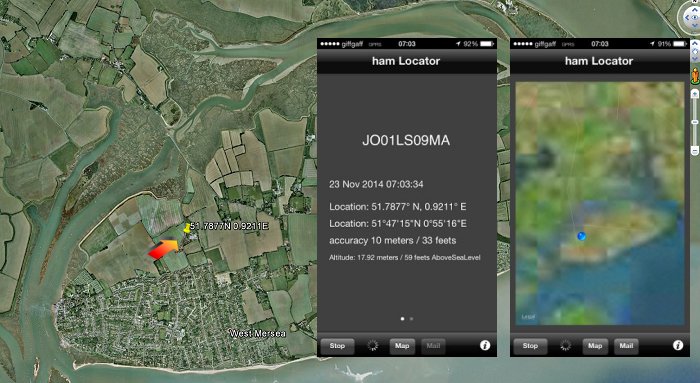 The location shown above is not where we tx'd from, it's just where we were parked for a couple of minutes while I exchanged messages with Jesper. Anyway a couple of minutes later we were parked outside the newsagents where I'd spoken to the guy a couple of days before about the postcards.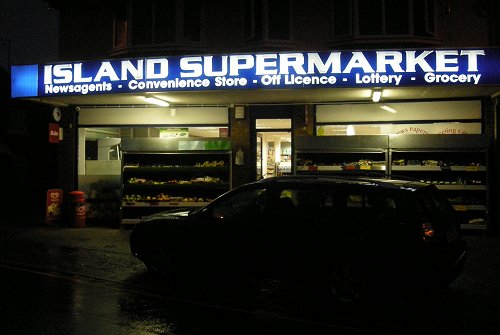 It turned out they didn't sell postcards, they were greeting/birthday cards!, so I bought a newspaper which would be used towards proofs, I also saved the purchase receipt again towards proofs. It was still dark and not ideal to start installing the antenna, so we had a drive around the island trying find somewhere which sold postcards, we came across some signs and stuff showing the island name so we took some photos but we couldn't find anywhere which sold postcards, just as we were driving to the place where I'd chosen to tx from I found a Spar grocery store, they didn't sell postcards but they had a folded greeting card bearing the island name "Mersea island", that would have to do. Back at the car I cut the greeting card in half making it resemble a postcard and addressed it to Jesper 47DX109, he'd bothered to think of me a few minutes before and wished me and Bill a good activation, least I could do was show him my appreciation with a makeshift postcard, hope you receive it mate!

Postcard duty done we drove from West Mersea to East Mersea, I'd hoped to tx from the Cudmore Grove Country Park car park, we pulled up at the gates at approx. 07:50z, gates locked: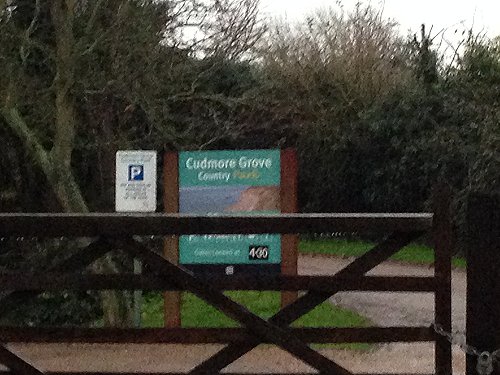 Before I chance to engaged reserve gear a car pulled up at side of us, a young lass got out and proceeded to unlock the gates, again perfect timing!. Turned out it was a pay and display car park and we'd not got any coins, looked like it was another drive to the West side of the island to the newsagents, I asked the Car Park attendant if she could change a £10 note, she just said don't worry about it, she said it was raining so hard she wouldn't be checking for non payers.

Within a couple of minutes we'd found a suitable area and proceeded to set up the bamby and station, within seconds of stepping out of the warm car we were drenched, seen as we were soaked we decided to set up the shelter, we'd intended to tx from under the shelter but it was bitterly cold, so the shelter was the place where Bill would later brew hot tea and cook breakfast.

08:35 and 26DX/ES003 Mersea island was on air, I'd intended to notify a few friends we were about to come on air, but cell phone coverage was terrible, most of the time it wasn't possible to connect to whatsapp, Facebook, even sms wouldn't send, apologies to those which I'd promised to keep informed. After a while for a short period I was able to access Facebook messenger, so thank's to Trevor 26DX015 for posting a few pics we'd managed to get across to him.

First in the log was 45VR016 Nesha, Mike 1AT217 was next (thanks for the audio file Mike), Mike kindly spotted us at cluster.dk and slowly the usually island hunters started to appear, Fred 14DA049 was first from France, this one stood out because Bill commented on Fred's audio, Fred called with just "049" with so much echo that Bill couldn't even make out a single number, it was just echo sounds to Bill's ears, it was weird because Fred's signal was very weak which is unusual for audio with such strong echo, I guess Fred's signal was arriving from multiple directions and the bamby was "side on", anyway it stood out because Bill said "how on earth did you know that was 14DA049", how did I know it was Fred, I couldn't explain, just knew it was, it's like in a pileup, 11m community is so small, especially the usual island chasers, you hear 015 and it s Jurek in Poland, same as 016 it's Mariusz, 010 it's Olivier, 197 it's loud microphoned Christian, I reckon I could work 90% of island chasers on 11m with just hearing their audio and unit numbers.

I was pleased to work my son 26Delta168 Dazza back home, I'd set my radio and audio feed on .570u expecting to use that freq, but when we started .570 was busy so choose .520 instead, wasn't long before Dazza found us and called in on low power

We were informed that 26DX044 Terry and 26/93AT011 Norbert had intentions to come and visit us on Mersea Island, some time after we managed to hook up with Terry and Norbert on the radio, they mentioned plans to visit us, a little later Terry called in to say the causeway which connected the mainland to Mersea was not accessible and they were in traffic waiting to gain access to the island. Terry mentioned some minutes later him and Norbert would go and get some lunch and would maybe try and visit us later.

Apart from a couple of short dry spell's which lasted only a few minutes it rained heavy all day, those dry spells coincided with Bill cooking breakfast (cheers Bill), the rain was so heavy that it had been mentioned on the local TV. About 13:00 we had a visitor at the car, it was a local lady walking her dog, she went on to mention that with the rain being so heavy for so long there was a risk of the lane/road which went across the island getting flooded, she said that the causeway would probably be ok at low tide but it was the little road leading the the causeway which could be the problem.

We decided then to stop the activation early, we had 127 in log, we had next to no takers even though band was in decent shape (basically we'd worked most of the island chasers), so we decided to go QRT. Now we had to pack away the shelter and cooking gear and dismantle the antenna in that heavy rain, not nice but within minutes it was done and as I drove out of the Cudmore Grove Country Park I managed to get a sms to Trevor and asked him to let Terry and Norbert know we were leaving early. It was a shame we were only a mile or so away from meeting Terry and Norbert but it wasn't to be.

The local lady who warned us about the flooding was correct, in parts the lane leading the the causeway was flooded, we were relieved we decided to go QRT early, before leaving the island we found a post box at the "East Mersea Village Hall" to post Jesper's makeshift postcard.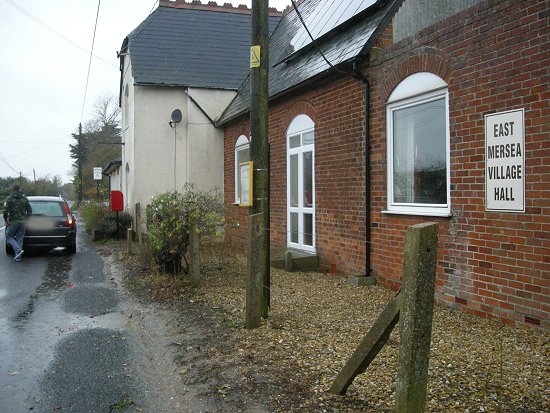 On the long journey home we discussed what a day we had, propagation wise we never really generated what I'd class as a pileup, but in total we managed 127 log entries, I'd hoped for at least 100, so personally I was pleased with that score considering we'd decided to stop the activation a couple of hours earlier, we had a good journey home, it certainly didn't seem 3hrs + long, talking about the activation, what a terrible day weather wise we'd (I'd) picked, the laughs we'd had, in all, we'd had a damn good time, thanks Bill for the laughs.


73..de Darran 26DX047 and Bill 26DX059.



return