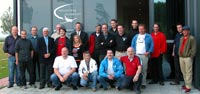 Welcome to the homepage presenting Delta-Xray Radio Club World Meeting 2006 - held during the weekend 2nd to 4th of June 2006 in Lelystad, Holland.

You can read all about the presentation of the World Meeting 2006 here.


You can read all about Delta-Xray Radio Clubs World Meeting 2006 at the pages below.
The story from DXRC World Meeeting 2006.
Meeting pictures, Friday 2nd June 2006.
Meeting pictures, Saturday 3rd June 2006.
Meeting pictures, Sunday 4th June 2006.


DXRC sends a special THANKS to Event Manager 19DX121 Mike for arranging a fantastic weekend in a great spirit.
Thanks Mike

We are extremely proud to arrange our Meeting and see so many (really: so many) DXRC and non-DXRC members from many countries: Sweden, Germany, France, Spain, Denmark - and ofcourse Holland.
We truely hope to see you all again at our next meeting.
Thanks for participating, thanks for joining.





01 47DX132 Carsten
02 14DX461 Ludo
03 47DX101 John
04 30DX016 Rafael
05 47DX052 Tom
06 30DX401 Christian
07 47DX002 Soren
08 30AT870 Rosa Mari
09 19DX121 Mike
10 21DX139 Patrik
11 21AT116 Chris
12 13DX024 Joe
13 14DX007 Vincent
14 14SD557 Richard
15 19DX121 Mike Jr.
16 19RK155 Ben
17 19SD083 Will
18 13DX056 Uli
19 19DX077 Rob
20 19DX050 Roberto
21 47DX047 Leif


Not present at picture:
- Carmen
- Astrid
- 19SD555 Diana
- 47DX088 Mette
- 13DX024 YL
- 13DX056 YL
- 19DX050 YL
- 19SD167 Frank
- 19DX061 Marcel
- 19AT346 Richard
- 19AT300 Walter
- 19RK001 Willem
- 19FU799 Edwin
- 19ZX001 Ron
- 19AT346 Richard
- ?????? ?????????