Welcome to the 5th DXRC World Meeting 2009
Following the nice tradition of DXRC meetings, we would like to invite you to the World DXRC Meeting 2009. The meeting is as usual open to everybody and all radio operators are more than welcome to join us in Steszew at the vicinity of Poznan in Western Poland this year. Besides the usual Meet'n Greet, we have also prepared a very interesting meeting program for you with interesting speakers and presentations.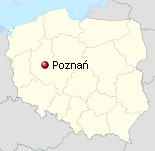 Of course, the location this year also offers a very interesting history and many special places to see.
The meeting location offers beautiful accomodation for all of you. Please send your reservation as soon as possible to make the booking in time. Please find all necessary information about rooms and prices here.
Check the accomodation information.
Book your flight, organize your travel to Poznan.
Register and announce your participation as soon as possible.
Have lots of fun and meet old radio friends on the DXRC World Meeting 2009.