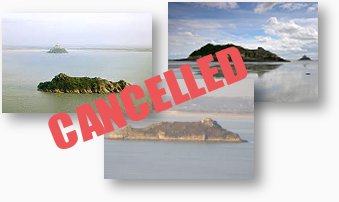 Welcome to the information page of 14DX/EU156.



This page is mainly made to offer log-search, and general information.




Tombelaine is a small tidal island off the coast of Normandy.




***UPDATE 09:33z 28/12/2013*** CANCELLED
The team cannot reach the island due to high water level. More info later.

At low tide the island can be reached on foot (usually with a guide) from the coast of Cotentin, 3.5 km to the north-east, and from Mont Saint-Michel.



Find Tombelaine Island on Islands Base Online.




Team


14DX461 Mr. Ludo
14FR003 Mr. Gui
14GT061 Mr. Jean-Claude
14IR184 Mr. Diego


QSL-Manager


DXRC Bureau

E-mail to manager: Click .





Activity schedule:


***CANCELLED**: Tombelaine island. (DIFM MA-021)




Equipment used:


- antenna: Skypper or Bamby
- radio: Yaesu FT857
- microphone: original
- power: 100 Watt
- power source: Generator
- logsystem: "Readability and Signal report exchange"




Activity Contract:


See here a copy of an agreement the activity team leader has made with DXRC HQ.




Activity Status: Cancelled


Click here to read more about validations.




Pictures from attempt to reach the island:


Click on the thumbnails below for larger picture.



Back.