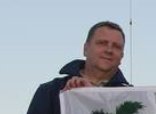 Welcome to the information page of 161DX/Z453.





This page is mainly made to offer log-search, and general information.





Slawek will participate in the Island Festival.

Slawek hopes to activate multiple on this weekend, a couple of his islands listed in the island festival are backup islands in case there are access problems to some of the islands.





Find Bielawki Island on Islands Base Online.




Team


161DX018 Mr. Slawek


QSL-Manager


DXRC Bureau

E-mail to manager: Click .





Activity schedule:


06/06/2015: Bielawki island. (new-one)




Equipment used:


- antenna: Skypper By 161AT080, GP & President Maryland
- radio: Icom IC-706
- microphone: original
- power: 500 Watt
- power source: Generator Kipor
- logsystem: "Readability and Signal report exchange"




Activity Contract:


See here a copy of an agreement the activity team leader has made with DXRC HQ.




Log:


Click here to make logsearch.




Activity Status: APPROVED (score 79)


Click here to read more about validations.




Pictures (also proof):


Click here to see pics from the activity.




Story:


Click here to read all about the activity.




QSL design:


Click here to See the 161DX/Z453 QSL design.



Back.