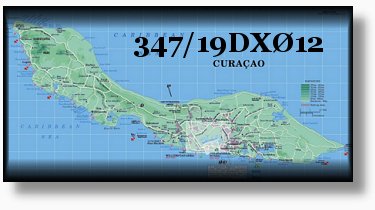 Welcome to the information page of 347/19DX012.




This page is mainly made to offer log-search, and general information.



19DX012 Dimitri once again visits the beautiful Island of Curacao.



Even though this is a holiday, Dimitri mentions he will be focused on spending plenty of time on radio, with this in mind DXRC supports Dimitri with 347/19DX012 Official Activity callsign and all benefits this brings.

QSL design will be the same as Dimitri's 2014 activity.


Dimitri plans to be active also in digimode beacon, this will be in operation on a regular basis when he's in or around the radio shack, this beacon will be in ROS mode on 27.635USB.


Dimitri will also do a short notice operation from 207 Division - ST. Martin, approx. dates are between 11th and 15th Dec. This activity will be classed as a personal/portable activity with QSL available via 47DX109 Mr. Jesper.


Find Curacao Island on Islands Base Online.



Team


19DX012 Mr. Dimitri


QSL-Manager


DXRC Bureau

E-mail to manager: Click .





Activity schedule:


11/11/2015 to 25/12/2015: Curacao island. SA-099




Equipment used:


- antenna: 2el Moxon HPSD or 3 el Yagi
- radios: Yaesu & Kenwood
- microphone: Heil Proset and other
- power: 100w, possibily more
- logsystem: "Readability and Signal report exchange"




Activity Contract:


See here a copy of an agreement the activity team leader has made with DXRC HQ.




Log:


Click here to make logsearch.




Activity Status: ACCEPTED (score 53)


Click here to read more about validations.




Pictures (also proof):


Click here to see pics from the activity.




QSL design:


Click here to See the 347/19DX012 QSL design.



Back.