Famous Landmark Blue House - Home of Polar Adventurer Peter Freuchen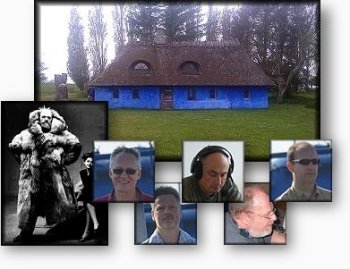 Welcome to the information page of 47DX/SJ025.


This page is mainly made to offer log-search, and general information.


Enehoje is the largest Island in the Nakskov Fjord some 130 km south west of Copenhagen. This 3 km long Island protects many of the other small islands in the fjord from big waves.


The Island was owned by Polar Explorer, Author, Journalist, Politician, Actor, Founder of Adventurers Club Denmark and Winner of the 64.000 Dollar Question TV programme, Mr. Peter Freuchen (see pic to right).


Upon his return from Greenland he bought Enehoje Island in 1926 and used the old smithy dated from 1760's as his work shack. Peter Freuchen painted the house blue and today it is a privately owned Landmark. Thanks to the owner it will be the Shack of the DXRC Team at the Island Festival 2014.


The team hope to make many QSO's from this fantastic Island which has never before been activated on 11 meter band. Stay tuned for 47DX/SJ025.


Interesting links:

http://en.wikipedia.org/wiki/Peter_Freuchen

http://www.anothermag.com/current/view/3425/The_Remarkable_Life_of_Peter_Freuchen

http://kottke.org/14/01/peter-freuchen

http://da.wikipedia.org/wiki/Eneh%C3%B8je


Enehoje will be activated in the Original Island Festival.



Find Enehoje Island on Islands Base Online.



This island was activated as one of four islands activated over the weekend. The team took part in the Island Festival (IF) 2014 radio contest.
Notice that some proof are used representing proof from all four islands - and some proofs are individual.




Team


Mr. Martin (photos, film, logistics)
47DK137 Mr. Karsten
47DX002 Mr. Soren
47DX052 Mr. Tom
47DX109 Mr. Jesper
47RO109 Mr. Tom


QSL-Manager


DXRC Bureau

E-mail to manager: Click .





Activity schedule:


07/06/2014 & 08/06/2014: Enehoje island. IOTA EU-029




Equipment used:


- antennas: Bamby, Moxon and Bi-Square Saturn
- radio: Yaesu FT-897D
- microphone: original
- power: 100 Watt
- logsystem: "Readability and Signal report exchange"




Activity Contract:


See here a copy of an agreement the activity team leader has made with DXRC HQ.




Log:


Click here to make logsearch.




Activity Status: APPROVED (score 95)


Click here to read more about validations.




Pictures (also proof):


Click here to see pics from the activity.




Video (also proof):


Our Entertainment video from the four islands can be seen here:







QSL design:


Click here to See the 47DX/SJ025 QSL design.




Story:


Click here to read all about the activity.




Audio recordings:


Click here to hear Soren 002 - 47DX/SJ025 audio. (Notice: mp3 format).
Click here to hear Tom 052 - 47DX/SJ025 audio. (Notice: mp3 format).
Click here to hear Karsten 137 - 47DX/SJ025 audio. (Notice: mp3 format).



Back.