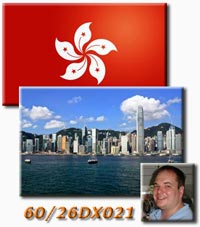 Welcome to the information page of 60/26DX021.



This page is mainly made to offer log-search, and
general information.



---

26DX021 did activate 3 DXCC's during October/November 2011, however we have not received any material from Matt regarding these 3 activities. Therefore we have to inform all that we unfortunately can not present proofs at DXRC website. We are very sorry for this.

Matt is no longer a member of DXRC and we have no contact with Matt, sorry.

As we are very certain that Matt actually was at the 3 DXCC's during transmissions we have decided to confirm the contacts with a QSL-card.

We apologize for not being able to present proofs.

On behalf of DXRC
Mette
President.

---



Find Hong Kong Island on Islands Base Online.




Team


26DX021 Mr. Matt


QSL-Manager


DXRC Bureau

E-mail to manager: Click .





Activity schedule:


16/11/2011: Hong Kong Island, AS-006, few hours on air.




Equipment used:


- antenna: Dipole
- radio: xxx
- microphone: original
- power: 100 Watt
- logsystem: "Readability and Signal report exchange"




Log:


Click here to make logsearch.




Pictures (also proof):


No pictures / proofs received.




QSL design:


Click here to See the 60/26DX021 QSL design.




Audio recordings:


Click here to hear 60/26DX021 audio. (Notice: mp3 format).
Click here to hear 60/26DX021 audio. (Notice: mp3 format).



Back.