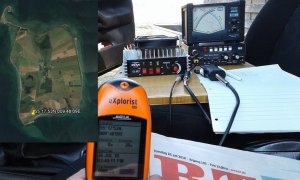 Welcome to the information page of 47DX/FY003.






This page is mainly made to offer log-search, and general information.






Jesper will activate Baagoe island FY-003 which will be a new-one island on 11m.

Jesper also has intentions to try and activate the neighbouring Egholm Island, due to time limitations and also Jesper does not know exactly how easy it is to access Egholm he has decided to use a personal/portable callsign which will be 47DX109/EU172. Egholm Island does not have a Danish Reference number but does qualify for IOTA EU-172.




Find Baagoe Island on Islands Base Online.





Team


47DX109 Mr. Jesper


QSL-Manager


DXRC Bureau

E-mail to manager: Click .





Activity schedule:


26/07/2018 to 28/07/2018: Baagoe island. (new one on 11m)




Equipment used:


- antenna: Bamby & Wilson 5000
- radios: Yaesu FT-857D
- microphone: original or Heil Pro-set Plus
- power: KL-503 (300w)
- logsystem: "Readability and Signal report exchange"




Activity Contract:


See here a copy of an agreement the activity team leader has made with DXRC HQ.




Log:


Click here to make logsearch.




Activity Status: APPROVED (score 95)


Click here to read more about validations.




Pictures (also proof):


Click here to see pics from the activity.




Story:


Click here to read all about the activity.




QSL design:


Click here to See the 47DX/FY003 QSL design.




Audio recordings:


Click here to hear 47DX/FY003 audio. (Notice: mp3 format).



Back.